This is a collaborative post.
2018 was the year I got a *little* tattoo obsessed, I started the year with 4 tattoos and I am coming up to the final month of the year with 11 tattoos. I met a tattoo artist called Heather at a local studio: Blacktide Collective. Heather created the images exactly how I imagined, she got my visions and had some beautiful pieces of flash that needed homes. I even got two of my bunnies tattooed on me in the summer by Heather. I recently wrote a piece called what does your tattoo mean and it made me realise how many of you guys have tattoos. A lot of you like me have gotten a variety of tattoos you love and have done since day one. Some of you have huge pieces planned out and others have gotten them on a whim. There is no right or wrong way to decide on a tattoo. Unfortunately with the good comes the bad, some of
you have designs based on ideas you loved and they didn't turn out how you imagined (que just about any tattoo programme on channel 4 or 5, ever) and some of my readers have even got their partners name which has then turned into being an ex.
Some people play it off and try to love what they have, I've even seen a story about a guy who is currently on the lookout for a girlfriend with the same name as his ex so he feels less bad about his tattoo. But for those of you who can't stand your tattoo and need it gone, tattoo removal may be your only option. As someone who has a lot of tattoos, luckily none of them are ones I regret and I hope I never do. But if a tattoo of mine in the future did go wrong I feel like laser removal would be an option I'd consider. I decided to reach out on social media and see what others are saying about their tattoos.
I have 3. One is a Playboy bunny (classy chick) and another is two dragons on the back of my neck. The 3rd is a mess that I let my ex-do on me. It's a star on the bottom of my leg. NEVER let someone else tattoo you for love.
"I got my tattoo when I was 18 years old - my first and only - a quote that reminds me every day to make my life a story worth telling. I always thought I'd regret it but it became so apt as I grew into the person I am now"
My favourite tattoo is the one I got most recently as it means the most. Its lyrics from my favourite song by my favourite band that have stuck with me for over a decade, and the tattoo is by an incredible local artist who specialises in abstract watercolour, so it's really beautiful!
"

My first tattoo was when I was 18 & it's three little bats on my ankle which now look silly as hell. My parents didn't find out till years later when I had like 10 others. Felt like a little rebel doing it & it's probably my worst one but hey lesson learnt & memory made"
My back piece is my favourite tattoo, featuring the Buddhist Goddess Tara. It's not finished yet, but I had it started during a hard time (PTSD following an assault). Tara embodies compassion, which I really needed. Strangely, the man who attacked me was arrested that day!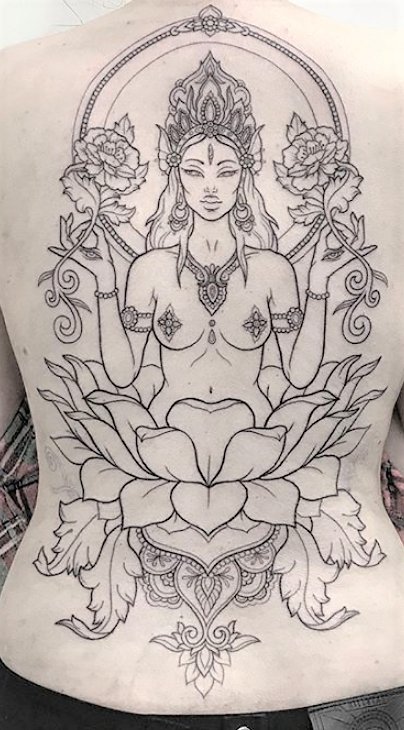 "I got my first tattoo at 41, and now 2 years later I have 5! I wanted one since I was a teenager but always worried about what other people might think. When I reached my 40s, I finally decided that I didn't care what they think, and now I love my tattoos - I've got more planned!"
I got a 'D-12' (Eminem's band) tattoo when I was 17. I'm 35 now and it makes me laugh every time I see it. What was I thinking?!
I have four tattoos and love them all. They represent specific times of my life. I have a feather and flying birds tattoo on my right rib from when I finally rid myself of my abusive ex. Each bird stands for someone that really helped me get away from the situation and I asked each one of them to pick the colour of their specific bird. That tattoo makes me feel happy.
An Albert Einstein quote on my back when drunk in Magaluf is probably one of the craziest things I've done. I also have dad on my wrist which I absolutely hate as it's a botched job but I also love it because I got it done when I was a teenager after my dad passed away. My favourite tattoo is my sea turtle tattoo, my partner and I have matching ones and it really means a huge amount to me.
Let me know in the comments about your tattoo stories, I love to read them.
As soon as the Christmas baubles arrived in the shops, I started to collect them to build up a collection ready for when the tree goes up. I prefer to buy 'out of the box' baubles and in more recent years, they're just about everywhere. I thought I'd create a small post to share with you my collection and also where I got them, in case you want to pick up any of your own. I have so many more I'd like to add to my own collection soon too, Paperchase I am coming for ya. Let me know in the comments if you're more traditional when it comes to decorating your tree or as out there as me (or even more so!)
-
Cotton Candy Bauble £1.50 Primark
Croissant Bauble £5 Paperchase* (Also on 3 for 2)
Swan Bauble £2 Flying Tiger.
Battenburg Bauble £22
Not On The High Street
Pink Duck £2 Flying Tiger
Lollipop Bauble is no longer available, find similar from Amara here £12
Cupcake from
George at Asda £1.50 find similar here.
*Contains an affiliate link
Saturday 17th of November was a day I won't be forgetting in a hurry. I woke up in the morning for work knowing I'd hardly been able to sleep throughout the night and I was already dreaming of an acceptable time to be able to go to sleep when I was home. The day at work goes pretty quick but I couldn't wait to get home. Once I stepped through the front door, I said hi to Will and then I collapsed into our comfy armchair and took a breath and closed my eyes, a few seconds later I opened them again only to see Will on one knee in front of me. He was saying the words but I couldn't comprehend the words which were coming out, it was hard to understand what he was saying as I was freaking out. I recall hearing Liv, you know I love you. Then me bursting into tears and freaking out, probably not an ideal reaction but I promise you it was a happy one. The ring he pulled out of his pocket was so me, I knew as soon as I saw it he had put a lot of thought into his choice.
I am glad Will decided to do it in our house as opposed to in a restaurant or a public location as I would freak out at the idea of people staring at us. Getting engaged is something most girls dream of but don't know when, if ever it will actually happen for them. I'm almost 24 so the timing felt right. The Pinterest boards have been being added to since 2013 so it is great to be able to have meaning behind them. We haven't set a date and know it won't be anytime soon, weddings are expensive if you want the big wedding which is something I now dream of becoming a reality for me. Buying a house is also a goal I would like to achieve in the next 5 years, so it is hard to balance the two. With the new year approaching, I will be setting my new years resolution to start saving up for the future.
Dating with BPD is a difficult one, let alone planning a future with someone. For them and for me, it's hard. I find it hard to cope with so much love for one person, I am unable to feel the love in normal doses, it's all or nothing and sometimes I love that person so much and then other times I can't cope with being around them. Sadly, I'm not sure this will ever change. But for me, being happy to spend the rest of my life with someone feels like I am making progress, I feel the most stable and settled I have done for as long as I remember. The future looks bright and a huge change from the way I felt before my 22nd birthday, where I didn't even see myself having much of a future if any. I have a job, a house, four bunnies and now a fiance which feels crazy to say!
We never really know what the future holds but as of November 17th I feel like my life has changed in a way which it never has before and I feel ecstatic that someone feels that way about me enough to actually want to marry me(!) and I am excited for what the future holds.
I was recently
asked to explore Birmingham as part of a campaign, as part of this collaboration I was given some spending money to explore Birmingham, however, all thoughts are my own as always. As someone who lives only a 30-minute train ride away from Birmingham, I couldn't wait to spend my time in the city, especially now the German Market was in full swing.
Despite living close to Birmingham, I don't spend enough time here, there is always so much to explore, with the Bullring, Mailbox, Grand Central Station and it's many shops and also outside of these places, there are miles of streets full of shops and restaurants too. If you are travelling to do your Christmas shopping here, I'd recommend staying in a hotel as there many
hotels in Birmingham
and it's great for splitting up what you want to do and gives you a little break in between shopping. I mean there is so much walking my feet can do, and if you're like me and want to go pretty much everywhere it can become a little much.
So I headed to Birmingham on Tuesday, ready to take on what Birmingham has to offer. When we arrived, we decided that food would be a great place to start, because who wants to shop on an empty stomach? I decided to try one of the many places in Grand Central and went to Tortilla which is a burrito bar which serves a variety of yummy food including tacos and nachos, which was an amazing experience and so reasonably priced too. Stay tuned for a full review of Tortilla in the near future.
With a belly full of food we headed outside to the German Market, which is a Frankfurt styled market it runs from New Street to Victoria Square, it is packed with stalls full of amazing food including crepes, hotdogs and chocolatey treats. There are pop up bars accompanied by adorable little tables, which are selling German beers and hot chocolate. Stalls which were selling coffee beans, popcorn and marshmallows. Along with an assortment of gift stalls which had a generous offering of Christmas decorations, jewellery, hand-painted ornaments and rainbow candles. Will and I decided to get some keyrings for ourselves and one for our friend. I went for Jessie keyring as she's my fave and I've had a similar one in the past which I loved. After we had a long mooch around the stalls we headed back inside of Grand Central.
We went to a few shops within grand central including John Lewis and Hema, before heading through Link Street, which is where we found Driftroom a quirky store selling a range of gifts and lighting and we spoke to the shop owner who was happy enough for us to take photos of the goodies within. After 30 mins in the store, I decided to buy a new card game 'cat chaos' which I can't wait to play and then we left. I was tempted to buy one the bigger lights but it was the idea of carrying it around and on the train which made us leave it behind. We popped into the Disney Store and Debenhams also, where I purchased a jar of personalised Nutella. After this, we headed to Selfridges which is four floors of gifts, clothes and of course more food. We had a look at all four floors which we don't often do, as I wanted to check out all it has to offer, and treated myself to a few bits from Paperchase and lusted over a Gucci bag. Once we had a look around we headed to Eds Diner to get some dessert, where I had waffles sandwiched together with Nutella and Will had cheesecake covered in peanut butter and chocolate sauce, washed down with a large Pepsi max each and with that we headed home to get the train.
I had a fabulous time exploring Birmingham and if my feet weren't super painful I could have spent another few hours there for sure. I hope you enjoyed this post and if you'd like to see more posts on Birmingham let me know in the comments below.
*I was gifted some spending by Hotels.com in return for this post, all thoughts and opinions are my own :)
Since moving house I've become even fonder of baking, throughout October I did a variety of Halloween posts and with Christmas on the horizon expect the posts to keep coming. A little while back I was offered the chance to review a baking subscription box called Bakedin, which each month you are sent a new recipe out to try. The recipe includes ingredients which are already weighed out for you, and any additional extras such as baking paper or measuring tools are included. You just need to add the fresh ingredients on top. Each bag of product is labelled to follow each of the steps which are contained within the leaflet in the box. The recipes are developed by Michel Roux who is one of the worlds finest pastry chefs, which makes the whole concept even more exciting. If you're looking to sign up to Bakedin, if you subscribe here and then use the code 'OLIVIAJADE299' you can get your first box for only £2.99. My first impressions when the box arrived was how neatly packaged it was as I've noticed a lot of companies using excess packaging lately, so I was glad to see this was just right. I saw the recipe card and was drooling at what my kitchen adventure was going to entail. For the Sticky toffee drip cake, the additional ingredients needed alongside were butter, double cream and eggs.
Having the step by step leaflet in front of me was super helpful as I knew which bag to use and the timings. The first thing I was greeted with was bag 1, which was full of dates and I had to heat them in a ban and then let them boil. As someone who has no idea about using fruit within food, I was a little confused about what sort of consistency the dates should end up like. I did find the picture on this step a bit hard to understand how it was supposed to look at this point so I just went for it. The rest of the creating of the cake I found it easier to follow the card. Adding the rest of the ingredients (sugar and eggs) to the dates and after stirring this, I then went on to fold in the flour. Once this was done it made a nice golden mixture which was then poured equally into 2 cake tins. I popped the tins into the oven for about 18 minutes before they needed to come out. I know the recipe said about 25 minutes but mine were done way before that. I used the stick provided to poke into each of the sponges to make sure they come out clean which they did yay.
I then took out the cakes and left them to cool on the side, before a few hours later creating the butter icing. Which was simply just butter, icing sugar and a tiny amount of milk. Once whisked together I covered one of my cakes in icing before sandwiching the second one on top and then covering the top and the sides with the icing. I struggle a lot with precision so I did find it hard to make this look 'perfect' once I was happy enough with the result I popped the cake in the fridge overnight for the butter icing to set. You don't have to do this, however, as it was quite late I thought it made sense to do so.
In the morning I took the cake out of the fridge and it was time for the final step, making the toffee! This was the part I was most excited about throughout the process but also slightly scared as I have tried to make it before and it turned into a mess. For the toffee sauce, we added butter, double cream and demerara sugar and put it on the stove in a heavy duty pan. I continually stirred until it gave the texture of the sauce I was looking for. Then I poured the sauce into a jug and let it cool for a while, before pouring it all over the cake and watching it drip down the sides, it looked so divine. For someone who doesn't really know that much about making cakes, I was pleasantly surprised at how great the cake turned out! Plus my friends and boyfriend loved it too.
I found my first Bakedin box a success, it has provided me with a recipe I never previously would have thought to make and I also now know how to make toffee sauce. The step by step guide made it easy to create the product compared to a normal recipe. The box already has the ingredients weighed out is great for those also who don't have scales. It even comes with a guide for how much butter to use. Thank you to the Bakedin team for providing me with this box and it was great fun to get creative!
Would you subscribe to Bakedin?
I love to find a good bargain, I mean who doesn't? It's a great feeling when you find a huge discount on an item you've been wanting for a while or even seeing an item you once knew was 4x the amount of what it is being sold for currently. TKmaxx is one of my favourite places to shop all things discount beauty, earlier this year I wrote a post about bagging a bargain and it was massively popular so I thought I'd share with you some of my latest discount beauty items. I am writing this post just after buying the items so I am hoping you guys will be able to locate these in your local stores. Let me know in the comments what your best bargain of all time was.
Too Faced Unicorn Dreams £22 - £7.99
When I go to TKmaxx I am a little wary of how old products are for the price in which they are being charged at, but when I saw the mermaid and unicorn collections within the items I knew the collections are both relatively new. So when I saw this amazing unicorn dreams mystical effect highlighting stick for £7.99 when it is still on sale in Selfridges for £22, I knew I needed to snap it up. The other thing about TKmaxx is that often people use the products for swatches which means that often there are faults with the items, but this unicorn horn was completely untouched which made me super happy. They had two shades of the highlighter and I went for Unicorn Dreams.
Freederm Pore Minimiser £6.49 £1.63
I was looking around the skincare in Boots and spotted this Freederm Pore Minimiser for £1.63, I suffer from acne and I am constantly looking for new products to keep it at bay. I picked up this as I know that Freederm is always a great go-to for troubled skin.
Biore deep cleansing pore strips £8.49 £2.13
As far as I am aware of the reason that these are currently £2.13 is due to Biore are rebranding their packaging of these strips. However, I believe the product will be exactly the same. For the sake of an old box for a quarter of the price, I am pretty happy with that.
MasqueB.A.R Anti-Blemish Mud Mask £7.99 £2.50
I first heard of the brand MasqueBAR on ASOS when I purchased some of their charcoal masks, I believe I paid around £9 for them at the time. They are some of the best face masks I've ever used and for £2.50 for 3 masks you can't really go wrong. I can't actually see any reason these are reduced as of yet, but it is likely to also be due to a re-package of the product.
Too Faced Mermaid Tears £16.20 £5.99
Another Too Faced bargain that I picked up from TK Maxx, I was shocked to find that this gorgeous colour changing lipstick from Too Faced was just £5.99. The packaging of the product drew me in and once I opened the product to check it wasn't already used (and it wasn't, win) I saw a beautiful greeny purple glittery shade and I fell in love. For the price and the fact I knew I'd wear it so much I had to purchase it. I know a lot of people wouldn't want to wear the colour so that may be one of the reasons it's cheaper.
Honourable mention- Popbands:
Finally, I thought I'd give a quick shoutout to Superdrug as their clearance section has some bargains in it and I found these Popbands for just 30p for 3. They're great for tieing up your hair and don't hurt like normal bobbles can. They come on a card so they're also great for storing in your bag. I'd totally recommend seeing what bargains you can find in your local Superdrug as I know sometimes it can be pretty hit and miss.
It's amazing what bargains are available on our highstreet and half of the time we don't even know they're there. Plus I still got Boots points on my Boots purchases as I had additional ones loaded to my card for a face product. Win.
It's no secret that Yankee Candle is my favourite candle brand, their one of those brands that once they're in your life, they never really leave. You know their reliable, last ages and always have a huge variety of scents to chose from. Yankee Candle releases several collections throughout the year but the Christmas range is always my favourite. If you missed last years collection be sure to stop by the post. This year I was gifted 2 of the candles and an advent calendar so I thought I'd share my thoughts with you on those and if there are any other brands of candles/wax melts you'd like for me to review, do let me know in the comments and I'll try to do so.
Yankee Candle has a variety of sized candles, the large jars which are featured in this post are £23.99 and they have over 110 hours of burning time, the medium jars costing £19.99 and having around 65-70 hours and the small jars which cost £8.99 and have a burn time of 20-30 hours. They also have wax melts and votive candles. As someone who likes to have a variety of scents on the go, I do usually buy one of the large candles for my favourite scent and then a huge variety of the melts as I feel like they smell the strongest for the longest amount of time and cost £1.79. Plus it's a great way to try out new fragrances and great for creating presents for friends with, as you can pick a variety of scents to allow them to chose from. So this year the two scents I am going to be reviewing are Winter Wonder and Frosty Gingerbread and hopefully, you find these reviews useful as I am rubbish at explaining scents.
Frosty Gingerbread:
Frosty Gingerbread reminds me of my first Yankee Candle, I don't even remember the name of it, I just remember that smelled so strongly of ginger and other winter spices and filled my room with that 'true' Christmas scent. Frosty Gingerbread fills any room with that true homely smell and makes you feel instantly relaxed. The smell to me honestly just smells like when you've baked gingerbread biscuits and the smell takes over the whole house and it's just lush.
Yankee Candle state the following about the fragrance notes:
Top: Cinnamon, Vanilla frosting, Nutmeg
Mid: Ginger, Clove
Base: Gingerbread, Sugar.
The first scent that I notice when I smell the candle is ginger, followed by a sweet sugary scent. I think for some people, it could be a scent that isn't their cup of tea as it is strong and could be overpowering. I know not everyone loves the winter spiced candles, but I find it delightful. The colour of the candle is a deep red and the biscuits on the front make me want to make my own too. If you love ginger you're in for a real treat, let me tell ya.
Winter Wonder:
Have you ever just smelt a candle and known it was one you needed to purchase? This candle is that one for me. To me, at first, I thought this smelt like a mix of white chocolate and peppermint. It's super sweet scent and totally different to Frosty Gingerbread. It smells so lush and it's one of those candles that aren't overpowering but are a nice background scent.
The fragrance notes for this candle as advised by Yankee Candle are:
Top: Frozen Lemon, Frost Air
Mid: Champagne Accord, Silver Balsam
Base: Vanilla, Sheer Musk
If you're looking for a sweet scent this Christmas I'd totally recommend this one, it is one of my favourite ever candles alongside Fireside Treats. It's one of those candles that are a safe bet for a family or a friend too in my opinion as it's just such a loveable and relaxing scent.
Advent Calendar 2018 (Contains Spoilers):
Last year throughout December I loved opening each of the tea light candles and trying out the fragrances which were within. The candles are the perfect size for an evening of burning and for the size, they pack a punch for sure.
The scents in this year's calendar are: Glittering Star, Winter Glow, Icy Blue Spruce, Crackling Woodfire, Sparkling Cinamon, The Perfect Tree, Snowflake Cookie and All Is Bright. Which is a large variety compared to last year, as I felt there were a lot fewer scents to chose from. I am excited to try out some of these scents and it's a great way to decide if to buy a full-sized version of the candle.
Overall I'd say the Christmas collection this year has a lot more choice and the scents are a little more like me. Full speed ahead to December.
What are your favourite Christmas scents?
Hello November. Goodbye Sunlight.
The day of the year I dread more than most the day the clocks go back and this year that was on 28th October, I didn't mind the extra hour in bed, or that day, in general. It was a pretty good Sunday, but the loss of light which was ahead was stuck in my head. Knowing that it wouldn't be until March when those long nights became longer days all over again. Sat my desk that day, knowing when I started it was only just getting light and when I finish the light will be completely gone. Limiting myself to going out in the evenings because the dark is something I fear. The person I become not having those extra hours of light struggles through the next few months. SAD also known as Seasonal Affective Disorder is a type of depression which comes and goes throughout a seasonal pattern. Most of us struggle with change which is out of our control, but this goes deeper than that. The change for most of us who struggle with SAD is unbearable. The lack of light makes us a shadow of who we were in the summer. SAD doesn't just affect people who struggle with the winter months, it can be the same for the summer months too.
Seasonal Affective Disorder brings out the worst parts our depression and there's nothing we can do about it. For me personally, it makes me want to hide out in my bed a lot more, as the idea of going outside is not something I want to contend with. Getting up and going to work seems to become more of a struggle each and every day. The energy I had in the other 5 months of the year, zapped from within me. Looking forward to the months of being able to open the curtains and feel happy to be awake. SAD can often make us feel like we want to hibernate and not see our friends, not go out, and finding it hard to sleep at night and then almost impossible to stay awake in the light. One of my bad bouts involved me failing to sleep at night due to constantly waking up, then sleeping all day until it was dark again. I think I went 4 days without seeing any natural light and it made me feel so ill, but I couldn't overcome it.
Despite this, Christmas is still one of my favourite times of the year, and this is something which helps me to get through those really bad days. The upcoming excitement of the streets being covered in lights, a huge tree making its way to the middle of the town, my house being filled with bright and quirky ornaments and of course the best Christmas songs and films around. The spirit of people coming together churns out some of the person who has been hiding inside. I find it a lot easier to cope on days when I feel like I have things to look forward to, and as much as I hate to admit it on the days when I eat better, I do feel the benefit.
Taking those daily vitamins is a great way to boost your mood from within also, I often don't realise how much they do for me until I stop taking them. Vitamin C and D are my best friends for giving me an extra boost.
Until recently I had suffered in silence about Seasonal Affective Disorder and when a work friend and I started to discuss how every single morning at work felt like we had to wade through water whilst feeling like we have weights on our ankles which was pulling us back down, no matter how hard we tried to stop it. He told me about SAD lights and what a difference they make to each day, this is called light therapy. Most light boxes emit 10,000 lux, which boosts the serotonin in your brain and helps you cope day to day during these times For someone who didn't even know these existed, it was a huge relief to learn such things are available in these bad times. This year, I've started to research in purchasing my own lightbox. Sad.uk who sell these lights also have a huge section of information on their site about the different types of light boxes you can get to suit your lifestyle as well offering information on SAD itself, which can be useful to share with friends and family. Sad.uk also recommend getting light in as early as possible to boost your energy throughout the day.
For now, until the sun returns for another summer ahead, I will try to make the most of the light around me, whether that is real, or artificial. It all makes a difference.
Will here, back for another review on Dungarees and Donuts! Olivia was gifted these Plantronics BackBeat PRO 2 headphones are available here, they are Bluetooth wireless headphones with noise cancelling technology. As last time when I did a review for Mo Bro's Grooming Kit a lot of you seemed to enjoy it, we thought it would be fun to do another review! Let me know in the comments what you'd like to see me review next.
The Look:
Personally, I'm really picky about headphones. I hate having ones that aren't designed to last, and I really don't like having ones that sound bad either. The issue is there are so many headphones that are poorly designed and poorly designed headphones can actually cause discomfort and a poor experience when listening to music. The Plantronics BackBeat PRO 2 has surprised me, there's a lot of technology going on in quite a small headset.
In terms of design, they look nice. There's grip on each earpiece and a nice imitation wood finish on the sides. The black and brown colour scheme is a nice touch, I really like how Plantronics have used different textures in the design of these. I couldn't really complain about how it looks as it looks really modern and sleek.
The Sound:
Music is built up from different frequencies, highs, mids, and lows. Some headphones distort or miss some frequencies, and I really don't like that. From what I've experienced with the BackBeat PRO 2 music sounds really nice and I didn't hear any distortion. When listening to music to test these, The bass was really cool, every thud from a kick drum and every snap from a snare was prominent, and the ring from every cymbal sounded really smooth and clear. It's possible to hear every echo and reverb from sounds through these headphones too, and you can hear layered or hidden elements of songs too. These headphones would be really good for music production.
The Feel:
The BackBeat PRO 2 has soft padding around the headband and ears. The padding is soft, the headband is very adjustable too, making for a great fit and comfort. They're able to be used for long periods of time without discomfort. They don't feel too loose to wear either, which is another positive.
The noise cancelling that these headphones have is good, and probably some of the best I have ever used. When the music is at half volume, any background noise is almost unnoticeable. I can imagine the noise cancellation to be great for trips away or even during a noisy commute on the train.
The wrap up:
Not to forget, these headphones are also wireless making them great for when you're on the go, you don't have to deal with wires getting tangled and you can take phone calls through the headset. Most wireless headphones have a really bad battery life that doesn't last much longer, but these headphones actually have a very long battery life. From what I noticed, they seemed to last longer than a day's worth of use when wireless.
One of the cons of these headphones is that they aren't collapsible so when you put it in your bag you need to be careful in case it was to break, but they feel very sturdy. The open mic feature can be a bit confusing when you're not using it, as your voice is played back through the headphones but this can easily be adjusted.
Overall, my experience with using these headphones has been really great and I couldn't recommend them enough. I have to say that they definitely stand up to competitors in the market. Absolutely worth the money because you really do get the quality that you pay for!