When my friends come over these days we often opt to play a game of some kind, I may be turning 24 in a matter of weeks but going out is overrated and playing games with your pals are much more fun in my opinion. Recently I've been gifted some games from Firebox and decided to review each of them for you and let you know if they're worth your hard earned cash. I have a part two of this coming too as I have some other awesome game recommendations but decided to split it up so this post isn't *too* long.
Think the childhood classic, Top Trumps but with British celebrities, politicians and the addition of Ian Beale and Phil Mitchell from Eastenders. This game is the battle of the fittest *literally* and can be played with as little as 2 players. The cards make me laugh as they have a bit information on each person on them. Oh, and I'd love to know who made the ratings up for these cards as some of them are questionable. I mean, who decided that Danny Dyer deserves a 10 for sex appeal and why doesn't Louis have straight 10s as he clearly deserves them.
The Noodle Game £15.99:
This game is one that all the family can be involved in and can be super competitive. The rules work by each player having a bowl and a matching pair of chopsticks, all of the noodles are in the carton (the box) and then the players take it in turns to pick up a noodle from the box and get it from the box to their bowl. The other players can attempt to get this from you, however, they can't move their chopsticks from their bowl until the noodle is away from the box. The noodles are a variety of sizes, so at the end, you have to count them up to find out who won. The concept is great, but the fact the way you count the noodles point value is by size and the sizes can be hard to tell apart, a colour scheme would possibly work better for this game, although I assume they made the noodles the colour in which they are to keep them looking authentic.
Make Your Own Gummy Pizza £7.99:
What is a games night without pizza right? You can opt for the traditional Domino's which is always a solid choice, however, thanks to Menkind you can also get a gummy create your own one, which is much more fun and would be a great prize for the winner of the games night or just to snack on throughout the night.
This game is one of my favourites ever, it's such a simple concept but gets everyone laughing and also you get to a learn a little more about the people around you. The way in which the game works is, everyone is dealt cards and then you go round the room and take it in turns to be the judge, the idea is you give the judge the cards they'd hate the most and then you have to sell them your idea as to why it is the worst for them. You can decide what circumstances apply to the card, e.g. live your life as Barney the purple dinosaur, the judge may ask you if this is forever, and then you can decide how it would play out. The first to five is the winner, however, we kept going for ages when we played. It's a great drinking game or just one to break the ice at a party. Think Cards Against Humanity gets personal.
Have you played any of these games? If so, what were your thoughts?
*These games were gifted to me by Firebox, however, all thoughts are my own as always and I loved playing each one, and they're 'special' in their own way.
This post is in collaboration with Jet2.
I can't believe how many days are left of 2018, we are swiftly moving towards 2019, and this time of year is often full of reflection, accomplishment and future dreams for most. Each year we start out of with the biggest goals and often don't' accomplish them. For the last two years, I've gone for the approach of not trying to make each new year a new me, more like a more refined version of me and it helps with relieving the pressure of needing to change. This year I set myself some mini goals which were things as simple as getting my hair cut often to help it grow, nail my skincare routine and do more social things and I am happy to say these were all something I was actually able to do! My 2017 goal was to return back to the blogging after struggling to commit to my blog after a tough few months, and my goals were just to stick to blogging at a pace in which I felt happy, I got rid of my 4 times a week posting schedule and went for a when I can type of approach and my content has become a lot more substantial and I've fallen back in love with writing, two years later I am still loving it. So I hear you say, what about 2019? I want to make 2019 a year where I actually go and see some places, experience some things and live a little more.
With the help of Jet2, I think this may be something which is actually possible. With a lack of funds being one of my top reasons for struggling to be able to explore. I've learned that Jet2 have a variety of package holidays that include flights and accommodation which helps when looking into the planning process as it feels like one less step to worry about. Their site is full of helpful tips including advising you what is nearby, how far to visit different locations and shares a variety of reviews from other customers. In their brochure, it even tells you the cost of a pint in the local area which I think is a great added touch. When looking at city breaks section of their site, it advises what is great about the hotel you want to stay, what you can do and also some information about the place. As much as I'd love to go back to America (without my parents in tow) for my anxiety, I feel like I need to try to tackle a city break or two first.
In 2019 I'd love to visit Venice in the warmer months as I went as a teenager and remember there being so many great things to look at and enjoy but I didn't have long in Venice so it would be great to spend a weekend there and then Berlin or Krakow around Christmas time to really experience what the Christmas markets have to offer. As much as I enjoy visiting the Birmingham one most years it would be amazing to experience this in another country. Jet2 kindly sent me a hamper full of goodies which you would find at a traditional Christmas market and it's got me in the mood for planning myself a weekend getaway for early December next year. The photos of these places which I've seen on other blogs look amazing!
2019 is going to be the year I attempt to take the plunge and break out of my comfort zone and jump on a plane, train or even boat to visit new places.
For 2019, I am hoping I can keep my anxiety at bay and visit the places I want to visit and explore this country (a work in progress) as well as others. For anyone who has travelled or been on trips with anxiety/other mental illnesses, how did you overcome your fear and just do it? Let me know in the comments or on Twitter (@dungareesdonuts) as I'd love to discuss it further with you. As far as my other 'big' goals for 2019 go, I am yet to set many, however, Will and I did get engaged this year so it would be great to start the wedding planning and begin to save for a deposit towards our own house. For the smaller goals, I want to keep this year's goals going, as well as adding getting a better sleep pattern in place, and also cutting down the amount of time I spend on my phone as since Apple has added in the reports to share how much time on a weekly basis, I've spent looking at my phone it has shocked me (anybody else shook by how long they actually spend on their phone?). I want to spend less time looking at the screen and more time enjoying life.
Let me know in the comments what you want to achieve in 2019 and also what goals you set yourself for 2018 and did you manage to complete them?
When you're experiencing a mental health
issue
, it's important to seek therapy or counselling. There are many ways to do this, whether you decide to work with a counselor in your local area or someone online. It's a personal decision. Seeing a counsellor face to face has its advantages. You get that face-to-face interaction, and it can feel good to talk with someone in a physical space. However, for some people, online counselling is an option that feels more intimate to them than going to see a therapist. Let's discuss some of the reasons that online counseling could work for you.
Online counselling is

exceptionally

convenient. You can see your counsellor wherever there is a reliable Internet connection. It's convenient in the sense that you can choose where and when you look at your therapist online. You're able to speak with them via video chat, messaging, or over the phone. You get to pick whatever modality works the most efficiently for you. Your counsellor is adaptable and will work with your schedule. Plus, you won't get stuck in traffic on the way to therapy!
Remote Areas and Accessibility
People who have disabilities or live in remote areas where there is not a large selection of therapists or counsellors tend to gravitate toward online therapy platforms. It's a great alternative when you don't have a large variety of mental health professional you'll find in the database of an online therapy site that there are more options than you might imagine, making it easier to access a specialist. Sometimes, your mental health needs are highly specific, and there are not people in your area that can cover those concerns.
Sometimes one of the barriers to getting help is social anxiety. People who struggle with social interaction might have difficulty connecting with a therapist, so online counselling is an excellent alternative to sitting in a therapist's office and talking with them in person. Online therapy provides a sense of intimacy that isn't necessarily there when you're working with a counsellor in a physical space. The person who is speaking with their counsellor feels connected with them because they are using their own devices - whether that's a tablet, phone, or laptop. They get to choose how they communicate with their therapist, and that can relieve a lot of anxiety.
Every human being expresses themselves differently and has different preferences for how they like to communicate. Whether that is through voice, seeing somebody visually, or text. With online counselling, you can choose which modality of communication will work best for you and your counsellor. It helps because you can dictate the treatment, in a sense. You know your learning style, and you understand what makes you able to grasp the concept of new coping skill. Therapy isn't just a place where you talk about your problems; it is a teaching place as well. You want to make sure that you get the information you need in a way that you will understand it. Maybe you're not sure which mode works for you yet. You can try out different kinds of communication, such as text, video, and messaging. It's helpful to experiment to see which of those gives you the best results. You and your counsellor can work together and decide what the most optimal communication style is for you.
Getting help is easier than before
Before online counselling, people may have hesitated to get help. Technology has made it easier than ever before to seek out a therapist and find someone who you connect with to get mental health services. Companies like

BetterHelp

offer a variety of different counsellors to choose from, so you'll be sure to find one that meets your needs. It can be anxiety-provoking to try and get mental health care, but online therapy can relieve some of that stress by making it easier to find a therapist who specialises in your needs. An online mental health professional is dedicated to helping you stick to your schedule and to accommodating your needs. You have the right to get the help that you need in the way that you need it, so give online counselling a shot.
*This is a guest post written by Maria Miguel on behalf of BetterHelp, however, I had full editorial rights over this post.
I've had an on-off relationship with Lush for the last few years, mostly for the reason of not having a bath, the stores being too far away and not really having the chance to explore what is new in their stores. I was recently invited to the new Lush store in Birmingham but was sadly unable to make the event, however, they were super kind and sent me over a gift set to review instead. From what I saw of the outside of the store last time I was in Birmingham it's going to be a lot bigger than their old store and have a similar layout to the Oxford Street store. Over the last few years, I've noticed Lush have started to tailor towards those who don't have baths by offering alternatives such as shower scrubs, soaps and bubble bars. I will always be a fan of their bath bombs as they will always be one of a kind and give you that full bath 'experience'. From Lush I received the Meet Me Under The Mistletoe gift box which retails at £80.00, I thought I'd do a post based on first impressions of the box, value for money and also go a little further in depth into some of the products. I will be doing this post in two parts due to the high amount of goodies within the gift set.
Let me know in the comments below what your thoughts are on this box so far.
Cranberry Fizz Lip Scrub:
The first thing I ever purchased from Lush was one of their lip scrubs and loved it. Many years later, trying a new one of their lip scrubs I am still madly in love. Not only is it simple to use and makes your lips feel so much healthier, but it also looks adorable too. Simply to use, you rub a small amount over your lips and then buff it in and ta-daaa, smooth and moisturised lips should be yours once more. I love to use lip scrubs around once a week as that usually does the trick.
Holly Berry Massage Bar:
I am yet to try a massage bar from Lush, but I am excited as I have heard great things about them, the massage bar in this set has a Christmas scent to it, however, it isn't a smell I am familiar with. The key ingredients within the bar are cocoa, mango, illipe butter and buchu. Although I am not the biggest fan of the scent of this massage bar it's not massively overpowering so I would still be happy to use this. Plus the design on the bar is adorable and super simplistic.
The four pots:
Magic Crystals-
I opened the pot of magical crystals and was greeted with a bright purple liquid and the smell of mint, which instantly made me feel more relaxed, the smell is strong and I feel like it does clear your airways when using this in the shower alongside the hot water. It's such a great feeling using this is in the shower to exfoliate your body. Left my body feeling smooth and refreshed and would purchase a full sized pot of this for sure.
Bucks Fizz-
When I opened the pot of Bucks Fizz I fell in love, it's the fresh citrus scent I've been pining for throughout the box so far. The body conditioner is similar to a moisturiser however you don't apply when dry. Whilst drying off rub this all over your body for a complete moisture boost and to smell amazing. A little really does go a long way in the form of this bad boy.
Charity Pot-
I have not actually ever tried a 'charity pot' before, but I wish I had, not only do all proceeds (minus VAT) go to charity, it is one of the best creams I've ever used on my hands. I am yet to try it on my body, but I rate it for sure. I will be buying another one of these next time I am near a lush!
Pink Peppermint-
Bright pink peppermint scented intense moisturiser for your feet. After one try of this, it improved the dryness on my feet as well as making them feel relaxed and less achy and as an added bonus they were left smelling great too!
Strawberry Santa Soap:
When Santa arrived, one of his eyes had sadly fallen off, however, once we gave him some eye surgery he was back to his usual self #phew. This Strawberry scented soap is one of a kind. Shaped like Santa and even after it is used it keeps its shape which is amazing, you can use this soap for just about anything, I love how moisturising it is on your skin and I am sad it is limited edition as I would love to buy it over and over.
Rose Jam Shower Gel:
One thing Lush are always amazing at creating without a doubt are shower gels, and they last ages, I remember a few years ago I had a huge bottle of snow fairy and it just didn't seem to go down at all. The Rose Jam shower gel stays smelling strong long after your shower has ended which is always a win. Don't let the idea of it being all about roses get into your head as in previous years this has put me off buying it, Lush describes Rose Jam as "
Turkish rose absolute and conditioning argan oil dance their dizzyingly floral fragrance over skin, leaving a gentle, lingering perfume behind." It sounds amazing, doesn't it? Be sure to grab it quick before it's gone from the shelves for another year or two.
The colour of this shower gel is insanely beautiful can I just add?
Anddddd, part one is a wrap! I'd love to know in the comments what Lush Christmas collection items you're loving this year and I'll be back in a few days with part two!
Last year this was one of my most popular posts, so I knew I needed to bring back the sweeter things gift guide for another year. This year it features even more goodness and I hope it inspires you with what to buy for your loved ones who love the sweeter things in life.
Hands down one of my favourite things on the list, for £40 the tin contains 16 hand-iced biscuits which are great for re-packing as little individual gifts or for a loved one who loves biscuits. Everything from the tin to the way each biscuit looks, it's a must-have. There are a variety of other options on their site if you're looking for something in a lower price range. I've recently finished off my biscuits and the tin is great for storing crackers in.
If you saw last years guide you will know I am a *little* obsessed with chocolate that looks like other items, last year I featured a biscuit tray where all of the biscuits looked amazing, and in the pictures even now I find it hard to figure out which are made of chocolate. Oh and some chocolate vegetables which looked scarily realistic. This year I've stepped it up and gone for a full cheese board made out of chocolate. The cheese looks so genuine and it's amazing how much it actually looks like cheese, the stilton being my favourite. The board is also edible, making it even more of an experience.
For £20 this is one the most 'worth it' presents on the list. For the cost and the quality, it's such a bargain. The hamper includes two pizza slices, one is salted caramel and the other is honeycomb. As well as chocolate popcorn and also a big box of chocolate gems. The gift is presented in a lovely hamper with a ribbon on, giving you the full hamper experience. For someone like me who is a HUGE pizza fan, this gift is ideal.
Finally, for the most colourful gift on the list is this personalised retro sweet hamper, full of your favourite childhood delights. This is a hamper not to be reckoned with, filled to the brim with 27 varieties of sweets! Great for sharing with friends or for a gift for a loved one, with a printed A5 card which allows you to personalise the hamper and give it that extra special touch. For £35 including the basket and tissue paper, I think it's a great choice for a gift and also can be gifted for any age, also it lasts for ages as the sweets are individually wrapped. My favourite thing about this hamper is that it included a pack of candy sticks which I didn't know were even a thing anymore! If this doesn't float your boat, also on The Personalised Gift Shop, they offer a variety of other hampers including one for coffee lovers and fizzy sweets. P.s. I was giving to give this to Will at Christmas but the goodies were just too much to endure waiting for!
*
This gift guide contains items which were kindly gifted to me, all of my opinions are my own as usual, although I cannot promise no pizza were harmed in the process of this gift guide, sorry.
Let me know in the comments which your favourite gift is.
This post contains gifted items.
The first week of December has flown by and we are heading to Christmas full steam ahead. For once I have actually been pretty prepared in my Christmas present buying this year, by either avoiding the shops altogether and shopping online or getting my in-store shopping mostly done in November with just a few bits to grab during December. I don't cope well with going out into busy places at the best of times and in December it's pretty damn mad. Plus those queues are not a fun place to be. This year I've gone with a variety of present ideas and decided it would be great to create a roundup of health and beauty products, instead of doing guides for him and for her as I've done these so many years in a row and fancied a change. This post is full of goodies which can be great for creating a hamper for a loved one, secret Santa gifts or even just to treat yourself, you know how it is.
Haircare:
I am a huge fan of all things hair colour, I've dyed my hair a huge range of colours over the last 3 years. In this time I've learnt you need to have your hair in the best condition to keep being able to dye your hair. For reasons such as colour not taking and to stop it falling out (god knows I still have my hair!) For fellow hair dye fanatics, there are three things we always need: hair colours, hair treatments and a huge supply of dry shampoo. To keep our hair looking bright for as long as possible, dry shampoo is our best friend. I am constantly applying some sort of treatment to my hair, but Moroccanoil is my staple for after washing my hair and nothing even comes close to it, it's revolutionary.
Included within my haircare gift ideas are some bottles of Crazy Colour which are all semi-permanent so great to experiment with they offer a huge range of colours. They also offer spray in colour which is fabulous for experimenting if you're not brave enough to totally commit to a colour. I've also included one of my staple hair care products which is
Moroccanoil which comes in a variety of sizes, I've included the 25ml for £11.99 on Amazon or you can get it within a gift set from Look Fantastic for £28.00. A few other staple products worth taking a look into are the
Living Proof dry shampoo
(which is a little pricer for dry shampoo but really does the job), any Colour or Style Freedom products and also Primark offers some great hair masks which are budget friendly.
This year I've fallen head over heels in love with skincare, I've been trying a huge variety of brands this year to make up the perfect skincare routine. Skincare can be a hard present to buy for friends and family, but a lot of products can be used on a lot of skin types. This year I was introduced to the brand Yes To who have completely changed up my mask game with a variety of sheet masks, peel off masks, night masks and even nose pore strips. Their products are super fun and brightly coloured so would look amazing in a hamper or for a secret Santa present.
For a more luxury product, Skin Pearls have you covered with their four-step routine like no other. They offer a variety of different products for different skin concerns. I have recently been trying out the acne range and I am in love. The product comes in four jars which are a month supply each, and on their site or in the package you receive a step by step guide of how to use them. As these are skin pearls and I haven't tried anything like this before I was more than happy for the guide. Each pot is targetted at a different area on your face and so far so good for my acne, my skin is feeling smoother and a lot less oily and I haven't seen any new breakouts this week which is huge. Let me know if you've ever tried their products in the comments too!
The 'man' stuff:
In 2018 and men love giving themselves a good old pamper, Will is into his skincare and loves looking into the new beard oils on the market. He also uses face masks with me *no shame* and enjoys helping me with my skincare routine. So a great present for most men in your life is some shower pals, I know I like to spend a lot on skincare and do on a regular basis but for Will, it's not a priority in his mind. Fat Face offers a huge variety of products, which up until recently I had no idea includes grooming, pampering and accessories. I'd totally recommend the Moss and Amber collection, this includes a body wash and a soap and then as an add-on the beard oil. I love the smell of the body wash and would use it for myself for sure. For other cool gift ideas for men, I'd recommend checking out Iwoot and Firebox.
Which is your favourite product on the guide?
*Disclaimer so maybe not every student will want these but, a lot of students will enjoy these gifts. Unfortunately, I can't even share any stats as I don't actually have them, because they don't exist. So you'll have to take my word for it. P.s. This post includes swearing and other rude things, so if this isn't for you feel free to click off as I'd hate to offend anyone! xo
Present buying can be such a difficult task, so I decided to compile a list of gifts which I would have loved to have got as a student. I feel like when you're a student you spend most of your money on food, booze and bills so it's great to get a gift you wouldn't usually buy for yourself. As well as new socks, because although 10 year old me hated getting them, 23 year old me is game. So this guide includes some items which are a *little bit* of the box, and not for the fainthearted. All of the items on the list are under £20 and most of them are under £10. So it's a great guide (if I may say so myself) for students to buy students or family members to buy for students. Or, if you just like cats, games and random selection of books this guide may also do well for you.
Power up Washi tapes from Mustard £7
These tapes are a great present for any stationery geeks in your life, to be honest, I've never needed a washi tape, however, they make studying more fun as you can cover most notebooks and pages in them. Plus forget ever licking an envelope again, you can just seal it up with washi tape, win.
Personalised Nutella £4
This year Nutella has become of my favourite things to eat, and it pretty much goes with everything sweet, some of my personal faves are waffles, croissants and in a sundae. You can now get your own personalised jar from a number of places, I purchased mine from Debenhams but I know Selfridges also offer this service.
Cat Choas £8 /
Truth Bombs £15/ Shit Happens £13
Games are coming back with full force, and not the console type. Good old-fashioned games but they're more out there than ever and appeal to the masses. Most games students do incorporate drinking into them, and as much as a deck of cards can be great fun it is awesome to have some alternatives.
Cat Choas is an easy game to set up and requires quick thinking like snap, you need to attempt to swap the cards in the middle with your cards to make up a full collection. There are 4 cards of each cat celebrity and the winner is who completes their suits the quickest. It's an addictive game and will keep you entertained for hours, plus you can use the cards to make your own games out of too.
Truth Bombs is a great game but can get pretty brutal, in a nutshell, a number of cards get drawn, enough for each player who is taking part and the questions can be anything from what would their online name be to who would they push off a cliff, and then at random every player writes down an answer to one of the questions for each person, the pad will get passed around and the person has to guess who wrote what, as these are done at random it's harder to guess. I wouldn't recommend playing this game if you're easily offended, but playing it whilst drinking seems even more fun, as long as you can still write.
Shit Happens is a pretty simple concept. You get dealt a hand of cards and each card has a number between 1-100 on them, on a scale of shit to the shittest (which is buried alive) and you pick a card from the deck and then read it for the person next to you and then they have to decide where within the shit index the card would it go. I wouldn't necessarily agree with the lineup of all of these cards and it depends what you would find the 'shittest' but it's a great game and gets you thinking.
Gourmet Popcorn from the Popcorn Shed £3.50
Who doesn't like popcorn? I mean I know I love it and it's a pretty easy crowd pleaser, for £3.50 you can get a shed load (excuse the pun) of popcorn in a range of flavours with everything from Salted Caramel to Cheese. They're a great stocking filler or lush to include in a hamper as they're so brightly coloured. Oh, and they taste pretty good too. Not too sure on the cheese one though, the jury is still out.
The Very Hungover Caterpillar £4
A twist on the book the hungry caterpillar, a childhood favourite of mine. The twist is all about what the very hungover caterpillar gets up to. It's a short but humorous book, perfect for that bit of toilet reading or just something to cheer you up on a bad day.
Images You Should NOT Masturbate To £7.99
I was drawn to this book as I knew it would be comical, and basically, the book is full of images you shouldn't/wouldn't want to Masturbate to. Perfect for that mate that never leaves their room or as a house secret Santa gift.
Optional Fucks Calender
This calendar is a great desk buddy for when you're studying, especially when you have annoying housemates, it's a great way to warn them at their own risk to enter. Plus its great fun to spin the wheel and keep yano, dates in...
I hope you enjoyed this post and some of the items in this guide were gifted, however, they were all chosen by me and are only featured if I genuinely would recommend them to you. Let me know in the comments if you would buy any of these gifts!
This is a collaborative post.
2018 was the year I got a *little* tattoo obsessed, I started the year with 4 tattoos and I am coming up to the final month of the year with 11 tattoos. I met a tattoo artist called Heather at a local studio: Blacktide Collective. Heather created the images exactly how I imagined, she got my visions and had some beautiful pieces of flash that needed homes. I even got two of my bunnies tattooed on me in the summer by Heather. I recently wrote a piece called what does your tattoo mean and it made me realise how many of you guys have tattoos. A lot of you like me have gotten a variety of tattoos you love and have done since day one. Some of you have huge pieces planned out and others have gotten them on a whim. There is no right or wrong way to decide on a tattoo. Unfortunately with the good comes the bad, some of
you have designs based on ideas you loved and they didn't turn out how you imagined (que just about any tattoo programme on channel 4 or 5, ever) and some of my readers have even got their partners name which has then turned into being an ex.
Some people play it off and try to love what they have, I've even seen a story about a guy who is currently on the lookout for a girlfriend with the same name as his ex so he feels less bad about his tattoo. But for those of you who can't stand your tattoo and need it gone, tattoo removal may be your only option. As someone who has a lot of tattoos, luckily none of them are ones I regret and I hope I never do. But if a tattoo of mine in the future did go wrong I feel like laser removal would be an option I'd consider. I decided to reach out on social media and see what others are saying about their tattoos.
I have 3. One is a Playboy bunny (classy chick) and another is two dragons on the back of my neck. The 3rd is a mess that I let my ex-do on me. It's a star on the bottom of my leg. NEVER let someone else tattoo you for love.
"I got my tattoo when I was 18 years old - my first and only - a quote that reminds me every day to make my life a story worth telling. I always thought I'd regret it but it became so apt as I grew into the person I am now"
My favourite tattoo is the one I got most recently as it means the most. Its lyrics from my favourite song by my favourite band that have stuck with me for over a decade, and the tattoo is by an incredible local artist who specialises in abstract watercolour, so it's really beautiful!
"

My first tattoo was when I was 18 & it's three little bats on my ankle which now look silly as hell. My parents didn't find out till years later when I had like 10 others. Felt like a little rebel doing it & it's probably my worst one but hey lesson learnt & memory made"
My back piece is my favourite tattoo, featuring the Buddhist Goddess Tara. It's not finished yet, but I had it started during a hard time (PTSD following an assault). Tara embodies compassion, which I really needed. Strangely, the man who attacked me was arrested that day!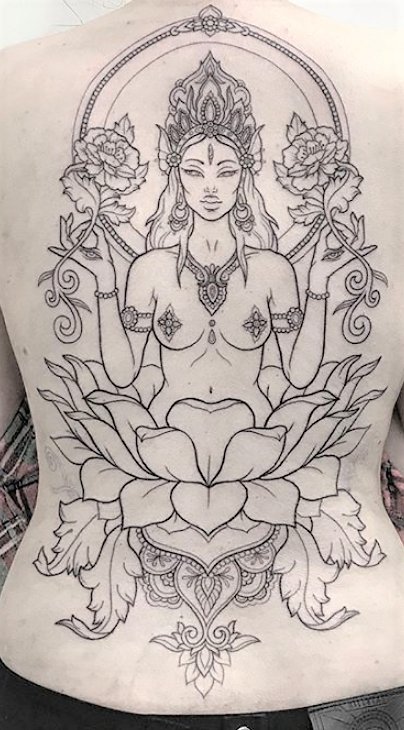 "I got my first tattoo at 41, and now 2 years later I have 5! I wanted one since I was a teenager but always worried about what other people might think. When I reached my 40s, I finally decided that I didn't care what they think, and now I love my tattoos - I've got more planned!"
I got a 'D-12' (Eminem's band) tattoo when I was 17. I'm 35 now and it makes me laugh every time I see it. What was I thinking?!
I have four tattoos and love them all. They represent specific times of my life. I have a feather and flying birds tattoo on my right rib from when I finally rid myself of my abusive ex. Each bird stands for someone that really helped me get away from the situation and I asked each one of them to pick the colour of their specific bird. That tattoo makes me feel happy.
An Albert Einstein quote on my back when drunk in Magaluf is probably one of the craziest things I've done. I also have dad on my wrist which I absolutely hate as it's a botched job but I also love it because I got it done when I was a teenager after my dad passed away. My favourite tattoo is my sea turtle tattoo, my partner and I have matching ones and it really means a huge amount to me.
Let me know in the comments about your tattoo stories, I love to read them.
As soon as the Christmas baubles arrived in the shops, I started to collect them to build up a collection ready for when the tree goes up. I prefer to buy 'out of the box' baubles and in more recent years, they're just about everywhere. I thought I'd create a small post to share with you my collection and also where I got them, in case you want to pick up any of your own. I have so many more I'd like to add to my own collection soon too, Paperchase I am coming for ya. Let me know in the comments if you're more traditional when it comes to decorating your tree or as out there as me (or even more so!)
-
Cotton Candy Bauble £1.50 Primark
Croissant Bauble £5 Paperchase* (Also on 3 for 2)
Swan Bauble £2 Flying Tiger.
Battenburg Bauble £22
Not On The High Street
Pink Duck £2 Flying Tiger
Lollipop Bauble is no longer available, find similar from Amara here £12
Cupcake from
George at Asda £1.50 find similar here.
*Contains an affiliate link